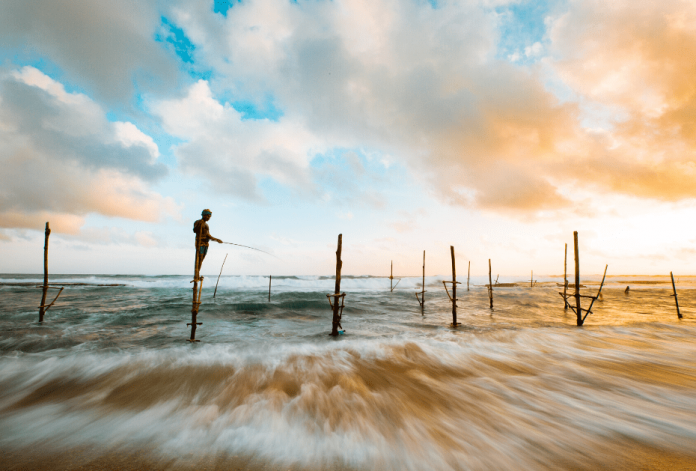 Whether you are a water sports enthusiast or just need to relax, this item is perfect for you. We show you the most beautiful beaches in Sri Lanka. Places filled with magic, with transparent waters, fine sand, luxury resorts, and even practically virgin spaces in which to lose yourself. If you like heavenly beaches, read on.
The best beaches in Sri Lanka for surfing
Surfing in Ahangama
The name says it all. Ahangama Beach is a popular destination for surfers. It is just over 20 km from the town of Galle and offers all the conditions surfers want: the best waves, a beautiful environment, and plenty of equipment rental companies if you don't have one.
Once the practice is over, you can enjoy a moment of tranquility without crowds.
Unawatuna
Unawatuna is a beach with turquoise waters, it is considered to be one of the most beautiful in the world. Its white sand and the sea temperature confirm this.
It is just 6 km from Galle. It is one of the most important historical sites in Sri Lanka, which is not only perfect for surfing but also a place for turtles to lay their eggs.
You will find surf instructors and other water sports instructors as well as equipment rental shops and, of course, typical bars and restaurants in the surroundings of Unawatuna, which is, without a doubt, one of the most beautiful Sri Lanka beaches. You can also go to this beach between October and March than between July and September, as it is usually not very crowded during these months either.
Hikkaduwa
If you are looking for one of the best beaches in Sri Lanka for surfing, Hikkaduwa is the perfect destination. It is a good place to practice surfing, especially if you are a beginner. As on the previous ones, there are a lot of equipment rental companies, so you don't need to bring your own board. And it is also easy to find monitors there.
If in addition to surfing the waves, you like to dive, you will not be disappointed with the seabed of Hikkaduwa. You might spot a giant tortoise. Without forgetting its impressive coral reef, a few hundred meters from the shore. Seventy varieties of the most beautifully colored coral await you, alongside fish and other living beings from the underwater world that will remind you of Cousteau's documentaries.
The best beaches in Sri Lanka to enjoy its wildlife
Fishermen wading the Koggala
Koggala, like some of Sri Lanka's best beaches already mentioned, is not far from Galle, about a 45-minute drive from the city. It is here that you will find the characteristic image of the country, which you have probably seen hundreds of times: the waders feeding on the beach.
Travelers often stop to observe them. So much so that the villagers traded in wading fishermen. So don't be surprised if they ask you for money to take their picture.
While we didn't include Koggala in the list of Sri Lanka's best surf beaches, it certainly has everything you need to ride the waves. Even if because of the underwater currents, we advise you that only the most experienced surfers take the risk.
Do not miss the reefs and the seabed either.
Whale Watching in Weligama Bay
Weligama Bay is one of the best places in the world for whale watching. Especially during the months of November to April. If you like scuba diving this is an area you should not miss. Weligama Bay Dive Center offers dives for beginners and for qualified divers.
Excursions from Mirissa
Mirissa is one of the best places to go on a sea excursion and see the whales. It is also common to see dolphins.
If you visit Mirissa in October, you can witness the tender spectacle of turtles swimming to the beach to lay their eggs.
Moreover, Mirissa is one of the best beaches in Sri Lanka to disconnect from the stresses of everyday life. Peace and quiet are guaranteed in an area of ​​the country where, for once, you won't find large luxury hotels.
Bentota turtles
Bentota is not only one of the best beaches in Sri Lanka, but also one of the most visited and loved by travelers. It usually fills up from October to March, when the water is calm and the temperature is ideal for swimming.
Turtle enthusiasts can learn all about them at the Sea Turtle Protection Association, a center for protection and conservation.
What about you, which Sri Lankan beach will you discover with Exoticca? Do you prefer surfing or diving, luxury, or simplicity? Choose your destination with us!